Meet & Contact Shawn Tidwell
It  was a lifelong dream of mine to own property in the Destin/Fort Walton Beach area.  I have been coming here with my family since I was maybe 9 or 10 years old.  It has always felt like home.  I also dreamed of someday finding the great love of my life!  Lucky for me I found Linda in 2018, and she and I bought our first condo unit in Destin West on the gulfside in October 2020, and our second on the bayside in January 2021. We are self managing and loving it.  I am a commerical real estate lawyer with a career in real estate law and marketing, both of which are vital to the sucess of our vacation rental business.  Linda is a wonderful decorator with a real vision.  We make the perfect team.  Our goal is to be a full service management company, with first rate properties and service.  Condos you will want to re-book year after year.  The plan is to build to 12-15 properties in the next few years.  We have our third under contract now which should come on line in April 2021. 

Our first task was to update Gulfside 204.  We completely renovated it in 2020, with new ceramic tile floors, new appliances, new granite countertops in the kitchen and bathrooms, lots of new furniture, fresh paint thoughout, and Linda's amazing decorative touch. On a trip to FWB to work on 204, on a whim we looked at some condos on the bayside.  We immediatley fell in love with the view and spaciousness of Heron 408 and put a contract on it that day!  We closed in January.  We love both the beach and bay sides, but think the bay side is a bit underrated, with the amazing views, pools and lazy river, hot tubs, grilling area and marina! Of ocurse the gulfside cannot be beat, with the beach just steps away, a huge pool, hot tub and fitness center. 

Each other, our children and these condos are our passions.  We have 7 children, a daugther-in-law and lots of grand puppies that we love spending time and travel with.  Exploring new places and traveling our for sure our favorite ways to spend time, we also enjoy concerts, playing picleball and tennis, biking, hiking and dancing!   Linda is a great dancer, I am not!  We try to get every minute of joy and fun out of life we can!  One of the unexpected benefits of owning these condos has been all of the great people we have met these last few months.  I cannot tell you how many dinners we have missed just sitting and chatting with people on the beach or in one of the hot tubs.   

We feel like we are building something special and we would love to host you, your friends and family at one of our properties. 
My Listings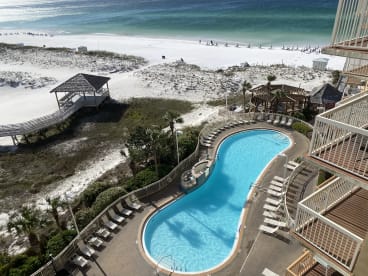 Pelican Beach Resort